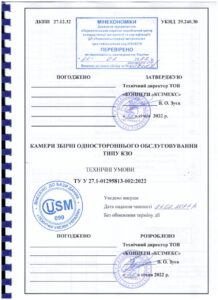 We take development seriously. Thus, many years of our company's experience in the electrical market in medium voltage area distribution of electricity using cells of domestic production and switchgear from leading world manufacturers led us to create our own Assembled Metal-Clad Switchgear with Front Access.
The decision was based on the use of well-known and widely used KZO types 393, 272, and 285 for voltages of 6 (10) kV, as well as new KZO -20 and KZO -35 for voltages of 20 kV and 35 kV, taking into account future prospects for the development of distribution medium voltage networks.
The decision to develop was not unreasonable, but thoughtful and dictated by the desire to implement the safest, most intuitive, and constructively correct solution for integrating leading European circuit breakers into domestic production.
Therefore, in order to be able to mass-produce this type of equipment, we have developed our own Specifications TU U 27.1-01295813-002:2022 for the production of this type of switchgear.
This document were approved and included in the unified database of technical specifications of Ukraine, which confirms our competence and legitimacy in this direction. Any device manufactured by us will always comply with our specifications and all other regulatory documents required for this class of equipment. Verifying by our technical control department using our electrical laboratory allows us to complete and document the passage of an entire cycle of acceptance tests.
Based on customers' needs, we can develop any new type of KZO or expand the already existing catalog range of our developments with the required schematic solution.

We can integrate circuit breakers and protective relays from different manufacturers into our cubicles if these preferences are dictated by technical requirements or the client's specifications. In any case, the final product will necessarily be subjected to the entire cycle of acceptance tests.
Reliability, safety, and quality of products is our main priority!